We have a GMP + certificate confirming the integrity and professionalism of our company at every stage of the logistics of goods.
Individual approach to every client enables the optimization of logistic processes and procedures to adapt to the specific nature of trade in goods.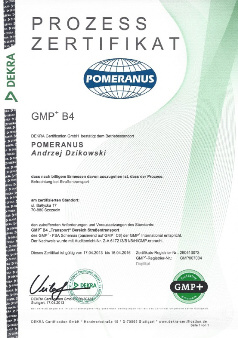 We would like to offer you cooperation in the field of transport and freight forwarding. We specialize in transport, the type of self-unloading trucks dump 25 tons, grain, pellets or other products of plant origin and fertilizers, coal, ores, aggregates.
Our fleet allows cargo tilt trailers packed to a height of 2.7 meters and a capacity of 25 tons.
We have extensive experience in the paper transport, waste, ballast, beverages, art. food between domestic and foreign entities.
Owned transport base and proven and credible road hauliers from all over the country and Europe allows for optimal charges for transport services.
In the course of long-term contracts, we are able to fit into the existing logistics system to customers and will carry the responsibility for the execution of assigned tasks and procedures.
24 hours a day, 7 days a week on the proper conduct of the transportation process supervised by competent and experienced staff, which remains in constant contact with carriers, which ensures timely and safe transportation. Therefore, you can be sure about the safety of the goods entrusted. Expertise and experience of our employees guarantee for our customers efficient, reliable and timely service.
The company is a member of the Association of International Road Carriers and Shippers.
We invite you to cooperate
TRANSPORT
Rafal Zieminski
Tel. (+48) 518 733 853

Fax (+48) 91 44 31 777
GG: 46438529


SPEDITION
Krzysztof Michalowicz